Authorised Agency For ALL INDIA RADIO, Registered with Commercial Broadcasting Service, Prasar Bharati, Mumbai. S.T.Reg.No : AAMFB8687JSD001
Welcome to Baalamugi Adverstising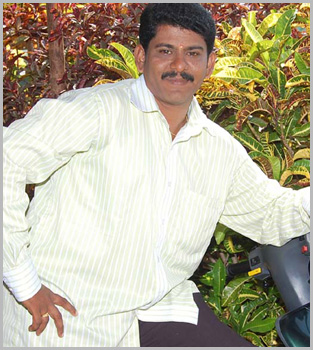 Greetings...!
First of all I am Arivudai Nambi feel peasure to thank all Valuable Customers who prefers me to advertise your Products through ALL INDIA RADIO - KODAIKANAL FM 100.5.
KODAI FM 100.5, which is located at the Top of Kodaikanal Mountain, "Call like Princes of Mountains".
KODAI FM 100.5 is Broadcasting Quality Programmes from 4.55 am to upto 12 am which attracts all types of people such as Youngsters, Seniors, Children and all Womens.
This KODAI FM 100.5 Broadcasting reach above 2.50 Crores of people arround 22 Districts out of 32 Districts in Tamilnadu such as 1.Ariyaloor, 2.Coimbatore, 3.Dindigul, 4.Dharmapuri, 5.Erode, 6.Karur, 7.Madurai, 8.Namakkal, 9.Nagapatinam, 10.Nilgiris, 11.Perambalur, 12.Pudukottai, 13.Ramnad, 14.Salem, 15.Sivaganga, 16.Theni, 17.Tanjore, 18.Trichirappalli, 19.Tiruvarur, 20.Tirunelveli, 21.Tuticorin, 22.Tirupur, 23.Viruthunagar. The Advertisements through KODAI FM 100.5 touch as more and more number of people in various Districts of Tamilnadu and Eastern Parts of Kerala.
Besides, more number of Employers, Doctors, Engineers, Advogates, Educationalists, Housewives and Poets etc., are being benifitted and mingled with KODAI FM 100.5. It is no Doubt at all, your advertisement through KODAI FM 100.5 get more and more Credits and Thousands of people can able to respond easily.
"We feel Proud to Advertise through KODAI FM 100.5 hence KODAI FM 100.5. Reciprocate for it"
Again, I thank the Advertisers for your valuable Support to me...!
services
Kodai FM advt
Dinamalar advt
Satilite Channel advt
Contact us to advertise in
KODAI FM 100.5,
Chennai FM,
Coimbatore FM,
Tirunelveli FM,
Pondichery FM,
Tiruchirappalli FM,
Madurai FM and
Ooty FM,
Tuticourin Radio Stations,
Nagarkovil Radio Stations,
Karaikal Radio Stations,
Dharmapuri Radio Stations.
Ph : 09443494314, 09940711525,
09629116122
Em : arivunambi@gmail.com
114/3, Dindigul Karur Main Road, Aravakurichi - KARUR 639 201
Testimonials
In Kodai FM advt Pls call and get feedbacks of my Services to
Er.A.Arun & Er.Panner selvam
Sree Guru Institute of Tech - Covai
Er.Sivakumar & Mr.Pandiyan,
Cheran Engg College - Karur
Mr.Sivakumar & Thirunavukarasu,
Kongu Ceramics - Karur.
Mr.C.Subramaniyam & Mr.Muthukumar
Proffessional Group Of Institutios - Palladam Kovai
Mr.Mani,
Annai Mathammal Sheela Engg & B.Ed., College - Namakkal (Yerumappatti)
Mr.Rajan,
Kongunadu Institutions - Namakkal (VelaGoundanpatti)
Mr.Praveen Kumar,
Auxil Solutions, Salem